It requires to transfer Mac Outlook to Windows Thunderbird while switching from Mac to Windows OS. Since, both Apple Macintosh & Windows OS are admired by numbers of end users; it's always been a subject of discussion as to which one is the better platform. Other than it is a well known fact that Windows offers more flexibility to its users and the software & applications are easily convenient, offers inter-operable and more economic when compared to Mac. However, cross platform migration takes place in below mentioned situations:
Switching from Mac OS to Windows platform as per personal decision or requirements.
 When Operating System varies at home and work place, for example, if a user has Mac OS at home and Windows OS at the office.


Read Further- Transferring Mac Outlook to Windows Thunderbird?
For most popular email application among Mac users is Outlook 2011 for Mac and for Windows users, Thunderbird is widely used email client so it often requires migrating data from Mac Outlook to Windows Thunderbird. In this section complete migration procedure has been mentioned and transfer from Mac mails to Thunderbird application can be done by following the given steps.
Step 1-
Configuring IMAP for Outlook for Mac
The first step involves configuring Outlook Mac account with existing IMAP account say "Gmail" through "Setting" option available in Gmail profile.
Step 2-
Synchronize Gmail to Outlook for Mac
Next Step involves creating "New Label" in Gmail account by clicking on the "Label" tab in "Settings" page. Next, open "Outlook 2011 for Mac" and update the account by clicking on "Send/Receive" button.
Step 3-
Moving Mac Emails to IMAP Account
In Outlook for Mac, click on the email messages that require the transfer and then move them to the newly created label or folder. Next, by clicking on "Send/Receive" button synchronize changes and update the Gmail account.
Step 4-
Configure IMAP to MS Outlook account
Now configure Gmail account to MS Outlook account and update Outlook profile by clicking on "Send/Receive" button. It will sync MS Outlook account with a Gmail account and all the email messages will be updated to the Outlook account.
Step 5-
Import MS Outlook Mails to Thunderbird
Launch "Thunderbird" and click on "'Tools" in the main menu and then select "Import"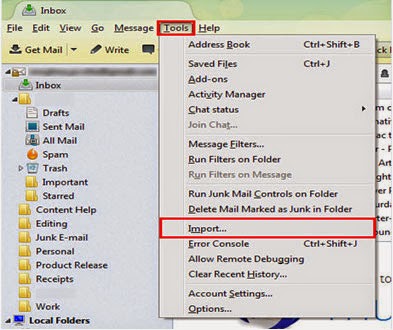 Import Window will appear with multiple import options as shown in the figure. Click on "Import Everything" if entire MS Outlook mailbox data needs to be imported into Thunderbird.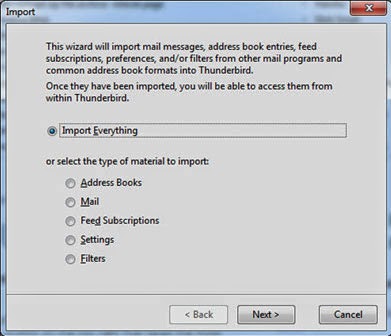 Click on "Mail" option to Mac Outlook to Windows Thunderbird.
Note: If you need to import specific data, i.e., Address Books; Feed Subscriptions; Settings and Filters; you can select the appropriate radio button to import that particular component.
Afterwards, click on "Next".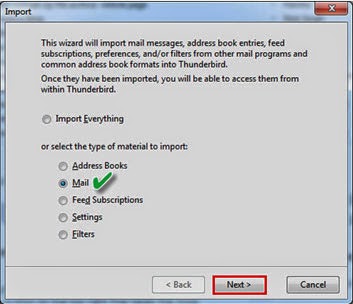 Then select "Outlook" from the given options under "Please select the type of file that you would like to import" and click on "Next".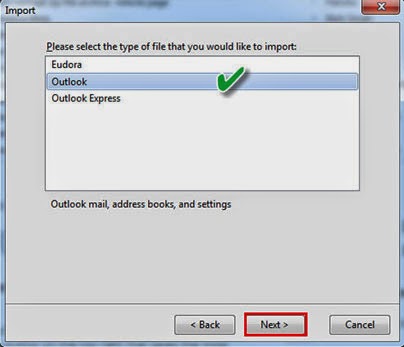 Click on "Finish" to exit "Import" Window.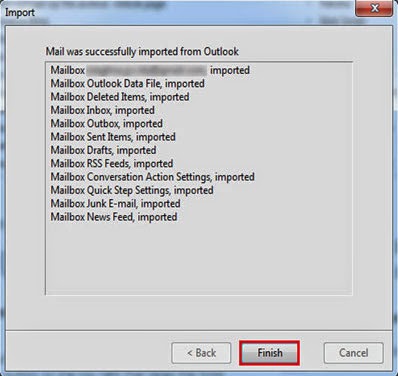 By following the above said procedure carefully, you can import Outlook 2011 for Mac data to Windows Thunderbird.
The following two tabs change content below.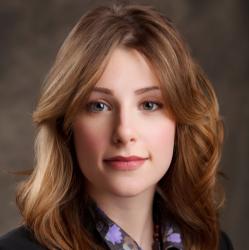 Mayra Cristina Lovato
Mayra Cristina Lovato is a technical blogger, she is sincere in writing technical blogs allied to any queries, errors with specific solutions related to Mac Outlook Files. She is ACMT certified and involved to explore her skills and experience by providing best solutions of Mac Outlook 2011 related issues.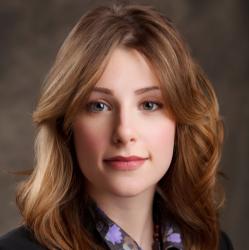 Latest posts by Mayra Cristina Lovato (see all)